By Damian Barrett, AFL.com
IT'S HAPPENING again.
Paul Roos is saying he's unlikely to coach.
We know how this plays out. It's just a matter of when and which club.
In a marketplace full of untried assistant coaches or sacked, demoralised and broken ex-coaches, Roos presents as the sole sure bet. He can coach a premiership. He can rebuild a rabble.
Twice he has perfectly planned and executed his entry to an AFL club, and twice he has had full control of his own exit. It's always been on his terms, as it will be when he jumps back into the caper.
Roos will not subject himself to a club's process to find a new coach. He will not pitch for a job. In his eyes, exposed form speaks for itself.
He either has, or will soon, take a call from a club envoy. One of those deep throat calls. "Hey Roosy, this chat isn't happening, but I've been asked to ask you by the powers that be at (insert club name here) what it would take for you to coach them next year."
That caller will need to be prepared for a hang-up, or at the very least a forceful: "No thanks mate." He or she will probably call back a week later, and this time cut straight to the finances, which on Roos' most recent stint, would need to be $1.5 million a year.
A prospective club will need a clean break from its current coach, too. There is no way Roos will become linked to a club unless it is officially seeking a new coach, with the old one's arrangements fully settled.
Which makes the 'Get Roos' project extremely delicate. There is no room for error at any stage. A club won't want to be seen to be acting too soon, and yet it will live in fear that its competitors are already engaged in talks with him.
Roos used people power, including his own well-earned standing within the Swans, in 2002 to gain his first contract to coach in the AFL.
Having taken over in an interim capacity from Rodney Eade, Roos watched as club legends like Paul Kelly made glowing public statements about his credentials, which whipped into an ultimately uncontrollable frenzy from the Swans' supporter group.
The Swans' board was awkwardly forced to rescind a contractual commitment with Terry Wallace who had walked out on the Western Bulldogs, and Roos, on the back of winning six of 10 matches to close the 2002 season, was appointed the main man. He immediately returned the club to the finals, giving the then-mighty Brisbane Lions a big scare in the 2003 preliminary final.
"Here it is" he yelled into the MCG microphone post the 2005 Grand Final, while thrusting the big silver cup upwards. One solitary point was the barrier stopping him doing the same the next year.
Roos led the Swans to an epic triumph over the Eagles in 2005. Picture: AFL Photos
He planned his exit from the Swans in 2010, just as he did at Melbourne last year.
There has never been a better coaching succession plan than Roos into John Longmire, who has made three Grand Finals, and people at Melbourne have the same lofty hopes for their immediate post-Roos time.
In the eyes of this column, Roos' time at Melbourne was a resounding success for he resuscitated a lifeless, stricken club, and gave it hope when there had been none for too long.
But, as is often the case with football clubs, there are now some connected to Melbourne who say he couldn't have left soon enough.
Jesse Hogan would've returned to Perth, some are now saying, had Roos stayed. Other players would have sought new homes, it has been stated from within. Simon Goodwin and his more attacking, free-the-players'-minds outlook on life was deliberately held back by Roos, they're now murmuring.
These things are easy to say after one has gone. The fact is the Demons were an unmitigated mess when Roos started at the end of 2013. Two rounds in to 2017, they are seen as a strong possibility for finals.
Roos was coach until the Demons' last game of 2016. His charter was to leave it a far better place than the one he entered. He did. Can't imagine him caring one bit about what some are saying now that he has gone.
Before signing the largest coaching contract in AFL history negotiated by the wily Demons chief executive Peter Jackson, Roos had constantly said it would be highly unlikely he'd coach again.
He never said never. He's not saying never now. "Unlikely" is a great default. "Highly unlikely" is an even better one. And then there's the other go-to lines of: "I'm loving what I'm doing in the media" and "I can't see myself coaching again".
Roos is spending 2017 as a commentator in the media. Picture: AFL Photos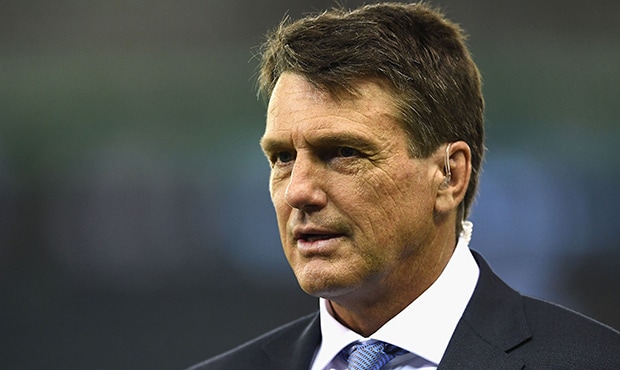 Roos replaced Eade in 2002. He may replace him again.
Mark Evans, the new chief executive at Gold Coast, is already considering all aspects of Eade's future. Evans was Alastair Clarkson's right-hand man in the Hawks' 2008 premiership success, and he will at some stage of this year ask Clarkson if he would be interested in the Suns' job, despite knowing Clarkson is contracted to Hawthorn until the end of 2019.
Evans has to ask the question. It's his job to seek the best candidate, not just the best available candidate.
In Evans' eyes, Roos may well be both – available and best. Evans will need to put his new club further into the financial red if he's to go down that path. That will be a difficult sell to the AFL, which noted with interest the $2.9 million Suns' loss on 2016 accounts. But Jackson's sell was equally difficult in 2013, and the AFL bought it.
And then there's Collingwood. Money won't be an issue there.
Until Roos actually says never, he's coming back.
Paul Roos is exclusively managed by The Fordham Company.